President Ram Nath Kovind approved the appointment of Justice NV Ramana as the next Chief Justice of India on Tuesday (April 6). (CJI).
Justice NV Ramana will take over as Chief Justice of India on April 24, following the retirement of present Chief Justice of India SA Bobde on April 23.
On the same day, Justice NV Ramana will take the oath of office. Chief Justice of India Justice SA Bobde recommended him for the position.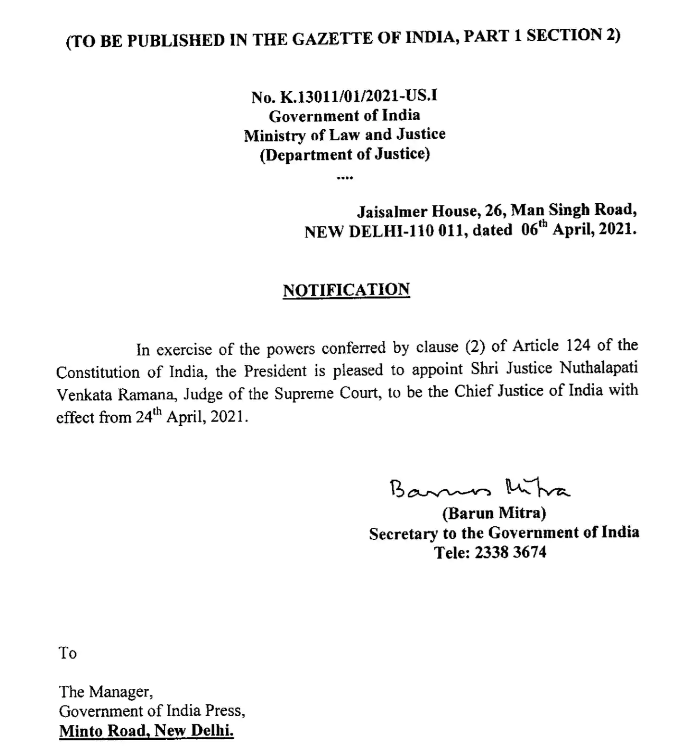 "In exercise of the powers bestowed by clause (2) of Article 124 of the Indian Constitution, the President is pleased to nominate Shri Nuthalapati Venkata Ramana, Judge of the Supreme Court, to be the Chief Justice of India with effect from April 24th, 2021," an official notification said.
He is a first-generation lawyer with an agricultural heritage from Ponnavaram Village in Andhra Pradesh's Krishna District. He is a voracious reader and a lover of literature. He is enthralled by Carnatic songs.
CJI SA Bobde had previously proposed Justice NV Ramana as his replacement after he retires. In a letter to the Central Government, the CJI recommended Justice NV Ramana, the senior-most Supreme Court Judge, to be selected as the next CJI.
In November 2019, Justice Bobde was sworn in as the 47th Chief Justice of India, replacing Justice (retired) Ranjan Gogoi. He was involved in a number of significant events, including the landmark judgment that paved the way for the building of the Ram Temple in Ayodhya.