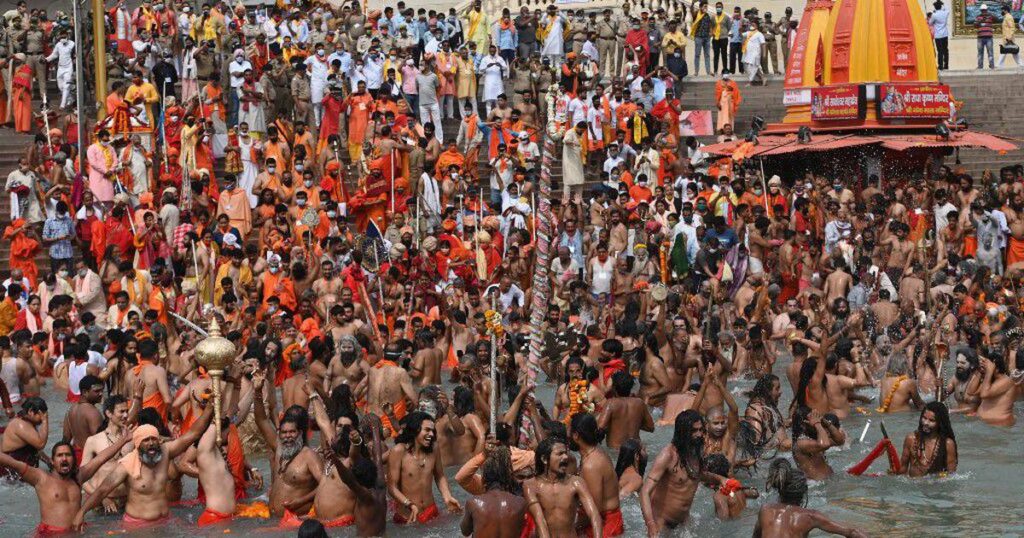 Officials said on Wednesday that more than a thousand people in India tested positive for coronavirus at the site of the world's largest religious festival the Kumbh Mela, as massive crowds of largely maskless devotees descended on the River Ganges.
The virus was found in over 1,000 people in Haridwar, which is located along the holy river where the Kumbh Mela is taking place, in just 48 hours.
Experts blame large worship festivals, noisy political gatherings in election-bound states, and crowded public spaces for a recent epidemic of coronavirus infections sweeping India.
The government suspended high school exams for 15 to 18-year-olds scheduled for May-June due to the virus's resurgence on Wednesday.
Despite the growing number of virus cases, pilgrims have flocked to the holy celebration in large numbers.
On Monday and Tuesday, a large crowd of worshippers lined the river's banks gathered cheek by jowl, to take a bath in the waters of the holy river of Ganga in a bathing ceremony.
"For us, the most important thing is our religion. Many people have come here to take a dip in the Ganga because of this deep conviction "A member of one of the Kumbh Mela's organizing committees, Siddharth Chakrapani, told AFP.
"We have faith in Maa (mother) Ganga to save them from the pandemic."
According to the Uttarakhand state government, 408 of the 50,000 samples taken from people in Haridwar tested positive on Monday and 594 on Tuesday.
The new figures were released as Yogi Adityanath, the chief minister of Uttar Pradesh, announced on Twitter on Wednesday that he had tested positive for Covid-19.
This week, India surpassed Brazil as the country with the second-highest number of Covid-19 cases worldwide.
On Wednesday, the huge nation of 1.3 billion population recorded more than 184,000 infections in the previous 24 hours, the largest single-day increase since the pandemic began, bringing the number to nearly 13.9 million cases.
For the first time since mid-October, India's daily death toll surpassed 1,000 on Wednesday.
Local governments also instituted nighttime curfews and restricted travel and events.