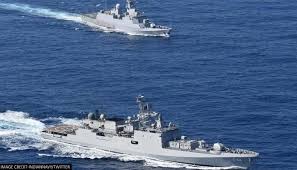 The fifteenth version of the biennial three-dimensional exercise "Dosti" by the coast monitor powers of the Maldives, India and Sri Lanka is in progress in the Maldives during November 20-24.
The Indian Coast Guard vessels, ICGS Vajra and ICGS Apoorva, and the Sri Lanka Coast Guard's SLCGS Suraksha are in the Maldives for the activity. This year points a long time since the principal release of the activity.
The three sided practice means to fortify companionship, upgrade shared functional abilities, practice interoperability and assemble participation between the coast watchmen of the Maldives, India and Sri Lanka, authorities said.
Activities did in the course of recent years have zeroed in on drills on helping with sea mishaps, killing ocean contamination, and coast watch systems and lead during circumstances, for example, oil slicks.
Exercise "Dosti" was begun in 1991 between the Indian and the Maldives coast monitors. Sri Lanka joined the activity without precedent for 2012.
"Much fervor and energy was pressed into the fundamental exercise and steampast of Dosti XV at Usfasgan'du Area in Male' today. Boss Guest, Hon. Clergyman of Defense @MariyaDidi cooperated with neighborhood understudies, who guaranteed they were excited to observe the unique drills and shows," the safeguard pastor of the Maldives said in a tweet.